Many employees are challenged with being working caregivers. They work full time and are responsible for caregiving for a loved one as well. It can be difficult for employees to balance the physical, financial, and emotional resources associated with these caregiving duties. These challenges in turn affect employers. When employees are juggling work and caregiving, employers may face costs such as loss of productivity by way of absenteeism, presenteeism, or additional supervisory tasks. There is also potential of having to manage employees arriving to work stressed, exhausted, and/or emotionally distracted or physically unwell. Then, if employees are forced to leave their jobs because they are unable to manage their career and the responsibility of being a caregiver, costs to employers could include recruitment fees, losing domain knowledge, temporary hiring, and paying overtime.
Here is an example of how employer benefits are evolving to meet the needs of employees doubling as caregivers: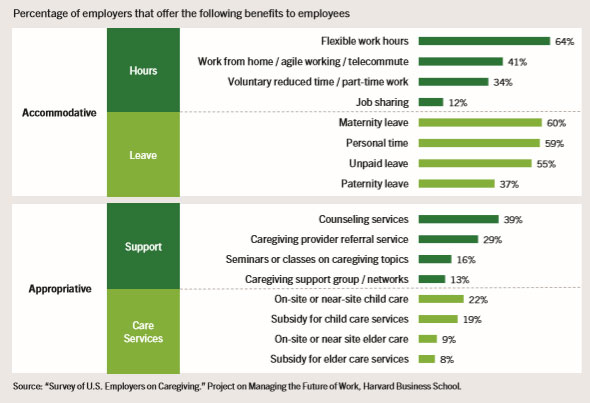 Many employers have these types of benefits to assist working caregivers. The challenge is that many employees are not aware of the benefits they have available to them. It is virtually impossible for employees to remember or know how to access all benefits available when they were likely explained one time when the employee was first hired.
What can employers do to support working caregivers?
Communication is Key
Ensuring employees are aware of the benefits and tools they have access to is difficult without clear communication throughout the organization. With our customizable app, employees can access information regarding benefits and eligibility, and find providers and vendors that can assist with their specific caregiving needs. In this way, employees can be confident referring to their company mobile app which improves transparency, information exchange, and communication.
Being Visual
Caregivers may need to frequently access HR services like time and leave management and paychecks which can require a lot of extra communication including sending emails, calling certain personnel, etc. Through the company mobile app, such communication can be replaced with specific dashboards and quick tools for ease of use. Depending on the company, some types of vendors that could help support working caregivers include:
Affordable medications, or medication delivery for family members
Pharmacy resources
Additional insurance information/options
Telemedicine/Telehealth (can speak with healthcare professionals that may help with diagnosing/prescribing medicine that could potentially replace an ER visit).
Vision care resources
Smoking cessation programs
401(k) plans
Informative Literature
Free, confidential live health coaching
The mobile app can be easily customized to also include information on company-specific trainings, conferences, and emergency protocol to ensure employees have access to the most up-to-date information anytime, anywhere.
Extend to Family Members
It's not just employees who may need access to benefits and services, but family members as well. When you extend customizable mobile apps to employees, ensure that such tools have the capability to accommodate family access as well. Our app can support a comprehensive health profile, medication lists, the ability to send reminders for medication adherence, storage of legal documents, information on family history, and vitals/progress of chronic conditions, which are all securely stored. These features can help caregivers save time and effort by having all information in one location. By providing the tools and essential information caregiver employees need, they can be better prepared to care for their loved ones on both a regular basis, and in the case of an emergency.
Employers can engage, educate, and support working caregivers and their families with our customizable HR and wellness web and app-based platform. Enhance your business and promote employee productivity and peace of mind.