Prior to the COVID mandate from the Occupational Safety and Health Administration (OSHA) goes into effect on Jan. 4, here are five things to consider:
Employee vaccination status: How many of your employees are currently fully vaccinated? Do you have proof of their vaccination in your record? Which mandates are you complying with?
Testing: Is weekly testing an option for some or all your unvaccinated employees? What testing will be performed, where and who will pay for the testing? How will results be stored? How will you make sure that an unvaccinated employee wears a mask all the time when they are in your office or store?
Validation: Who is going to develop and supervise the process and manage the validation of vaccination documentation and testing results?
Exemptions: What exemptions will your company permit and what is the process to allow or deny an exemption request? And if exempted, what does the employee need to do next?
Systems: What tools do your human resource (HR) team, operational team, compliance team and employees must make sure they can do their part to remain compliant with the vaccination requirements?
Companies cannot afford to be unprepared when the mandate goes into effect. While some details have been determined, if the new regulation is anything like other federal mandates put in place to safeguard the public, fines for non-compliance will be swift and expensive. As it stands, penalties can be up to $14,000 per violation. This could be devastating to a business.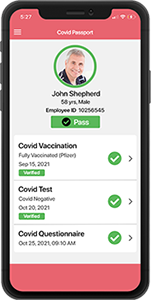 Green Circle Life offer a very comprehensive Vaccination Mandate Compliance tool to help companies in their compliance efforts. The SmartFHR™ Platform based Covid Passport is easy to use and is available via app and web. The platform will allow companies to:
Track employee vaccination and testing status
Securely store vaccination records & test results
Manage exemption requests
Offer a Covid risk assessment
Receive extensive analysis and reports for monitoring and compliance with all mandate
Integrate with existing HR systems and work processes
Manage multiple groups based on location, department, or other organizational structure
Verification of Vaccination Cards and Covid Test Results may be outsourced to Green Circle Life
Don't be caught unprepared. Contact info@greencirclelife.com for a demo and be on the way to compliance in just two weeks.