GREEN CIRCLE LIFE LOWERS HEALTHCARE COSTS AND INCREASES EMPLOYEE ENGAGEMENT FOR AUTOZONE
---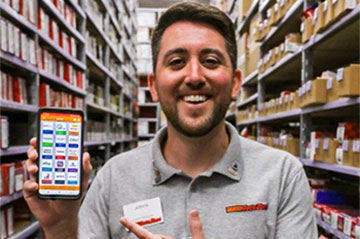 Challenges:
Reaching more than 95,000 AutoZoners – employees – spread over 6,600 stores and service centers.
Helping AutoZoners find and navigate company information and resources.
Addressing multi-generational workforce preferences and priorities.
Improving chronic condition management with integrated healthcare services and live counseling.
Improving AutoZoner engagement and reducing turnover.
Effectively communicating and engaging AutoZoners; and
Controlling employer healthcare costs while improving health outcomes.
Solutions:
Partnering with Green Circle Life to offer AutoZoners, a company branded app on Android and iOS devices as well as a web-based service.
Deploying AutoZoners App as a productivity and convenience tool to encourage daily use.
Replacing traditional wellness and condition management programs with personalized programs focused on individuals and their family's needs to make lifestyle changes.
Providing all HR services and benefits access with single-sign-on, anytime, anywhere access;and
Offering multi-channel communication platform with bulletin board, messaging, email, text, reminders, push notifications, appointment setup and more.
Results: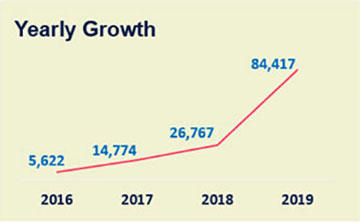 In 2019, more than 75,000 AutoZoners used the platform, averaging 5 logins per month per user.
Over 90% of AutoZoners find the app easy to use and know how to find company resources.
Health engagement increased by 90% in two years.
Increased operational efficiencies with app based workflows eliminating paperwork.
Increased preventive care and condition management participation; and
Increased open rate for health and wellness and company communication as high as 55%.
Reduced healthcare costs by 22% for individuals who participated in the disease management programs for the entire year.
Challenges
AutoZone, a leading auto parts retailer with more than 95,000 AutoZoners, is recognized for providing the highest quality experience to its customers. However, the company struggled with engaging AutoZoners as the workforce is spread geographically across 6,600 locations. Additionally, most AutoZoners did not have work environment like sitting at a desk – the typical work environment required AutoZoners to move around a store throughout the day. This led to a limited access to emails and intranet, eventually resulting in AutoZoners feeling disconnected with company communications, resources and culture.
Reaching such a large workforce effectively became a challenge for the executive and human resources (HR) team. Since there weren't any universal channels for communications with the distributed workforce, many AutoZoners were unaware of what company resources were offered, where they should turn for resources and how to engage with them on an ongoing basis. Sharing corporate news with AutoZoners also was a difficult task for the executive team.
Additionally, the company faced high healthcare costs as well as multigenerational complexities as individuals had different preferences and priorities. Even though AutoZone offered comprehensive benefits, the overall workforce did not fully engage with them. Furthermore, there were many AutoZoners who faced certain health issues like diabetes and high blood pressure that were not receiving the assistance they needed to properly manage their conditions to live a healthy and productive life.
Overall, AutoZone's HR team wanted a new approach to communicate benefits and to reengage their workforce in the company's culture and healthy lifestyle.
Solutions
AutoZone collaborated with Green Circle Life to develop a company branded application and web-based service, 'AutoZoners,' to aggregate all benefits and services in one place. The AutoZoners app has become the central repository for all services, including all benefits and HR services, making the platform comprehensive, useful and convenient. It allows AutoZoners to access all services including but not limited to payroll, personnel records, internal job boards, company discount card, health savings account, 401(k) plan, wellness programs, chronic condition management programs, scheduling appointments, coaching and more.
Green Circle Life worked with AutoZone to provide a multi-channel delivery platform for communications. AutoZoners provides a communications hub with push notifications for immediate messaging and different channels of direct dialogue among AutoZoners and their management. Additionally, Green Circle Life enabled the platform to promote specific company announcements including the annual earnings, company videos, popup message with HSA account reminders, surveys and more. AutoZoners have phone support available to answer any service or benefits-related questions for paycheck, W-2, direct deposit issues to health and wellbeing of their families.
The platform gives AutoZoners 24-hour access to their company-provided services and any corporate announcements using a single-sign on as well as biometric authentication making it a streamlined process. AutoZoners is available for the families of AutoZoners to help drive further engagement and overall lifestyle changes.
The AutoZoners app also replaced traditional separate wellness and health programs with customized, integrated programs and services tailored to specific user needs. AutoZoners can select programs and configure the service for their goals and preferences. Green Circle Life identified high-cost, high-risk groups of AutoZoners who may struggle with chronic conditions and now provides them with consistent strategies for lifestyle changes through the app, and digital and live coaching. Those strategies include engaging with the Green Circle Life health and wellness coaching staff to complete a wellness assessment, using connected devices for vitals and activities, receiving education on their conditions, encouragement to join programs that will help them achieve their goals and monitoring their progress with vitals, digital coaching, lifestyle coaching, remote monitoring and more to help lower healthcare costs.
Results
The AutoZoners app expanded from a focus on wellness to a comprehensive HR benefits and services platform to give AutoZoners what they needed most. Over time they became more engaged and started using the app for many different purposes. AutoZoners consistently access the AutoZoners platform to view paycheck information, and personnel information, review benefits, order uniforms and see internal job openings. Since it is comprehensive and all company-provided resources are located on the platform, AutoZoners know exactly how to find their available resources and can view them easily on the HR and benefits dashboards. Removing the barriers from disjointed platforms was crucial; AutoZoners can find and use the benefits and HR service resources at the time and place that is best for them. In 2019, AutoZoners had more than 75,000 unique users averaging five logins per month per user.
Across the board, employee groups have found the app useful. 87% of store support center AutoZoners enrolled in the platform, as well as 87% of field management and 80% of field sales AutoZoners.
AutoZone created operational efficiencies to develop online processes for new hire onboarding as well as for AutoZoner Assistance Fund program. Prior to AutoZoners, paperwork was done manually and now AutoZoners can easily do it online for a streamlined and convenient experience.
Additionally, AutoZone can measure the effectiveness of its communication and track how many AutoZoners are engaging and using its resources, which allows the company to focus its attention on other areas that may need assistance. The team found a significant increase in open and engagement rates on messages, including open rates as high as 55% for newsletters and 27% for preventive care emails. Through this, the multigenerational workforce concerns were addressed by promoting personalized and tailored health and wellness programs and assistance. These programs have resulted in a projected health care cost reduction of 4% as well as a year-by-year increase in preventive care participation. For individuals participating in the disease management program their actual healthcare costs were signtificantly lowered resulting in a savings of 22%. Overall health and wellness engagement participation increased by 90% from 2017 to 2019.
AutoZone can now help AutoZoners in the way that is best for them providing a channel that is mobile first, delivering all resources and announcements straight to AutoZoners. This has increased workforce participation in education and engagement with company resources and announcements. In a recent survey over 90% of the users found the app easy to use and navigate. AutoZoners is enabling AutoZone to provide a distinctive offering in the retail space compared to many other employers and competitors, increasing AutoZoner satisfaction and reducing turnover rate.
Matthew C. Harmon, VP, Benefits, Compensation and HR Systems at AutoZone, said, "Watching how AutoZoners increasingly engage with the app year after year is a testament to how integral the platform is to our company culture. AutoZoners have become increasingly educated and knowledgeable about our company benefits, services, resources and announcements, and they have found value in it, not because someone told them they should use it, but because they legitimately see the value in it. Without Green Circle Life, we would not be able to communicate with and engage our AutoZoners effectively, while also developing a return on investment on our benefits and lowering healthcare costs."