Challenges:
AutoZone, a leading auto parts retailer with more than 100,000 AutoZoners, is recognized for providing the highest quality experience to its customers. However, with high employee turnover, the company struggled to engage employees in wellness initiative that could result in a healthier workforce. Having employees spread across 6,000 locations throughout the U.S. and Mexico, most of whom do not have a computer or work email add to the engagement challenge. Green Circle Life (GCL) was asked to addresss these challenges and provide Wellbeing services for AutoZoners and their family members. As the participation grew exponentially, the next challenge was to measure ROI of such a program.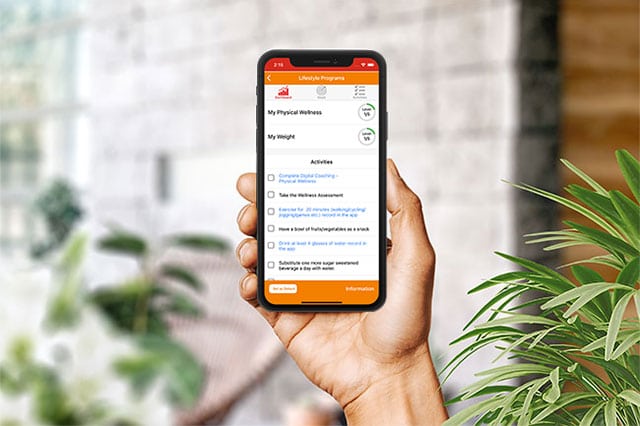 Solutions:
AutoZone and GCL collaboarated to develop a company-branded application 'AutoZoners' available via App and web to aggregate all communications, benefits, and services in one place. The AutoZoners App has become integral in presenting a "one-stop shop" type of experience. It provides AutoZoners access to HR services such as yearly open enrollment, information about company benefits including digital health and pharmacy cards, eligibility, and contact information, wellness programs and challenges, health data tracking, and one-on-one lifestyle coaching, as along with communication related to the company and other vendor offerings. Multi-channel, two-way, 24/7 communication allows AutoZone to interact with employees and family members at the time and through the mode that works best for them.
In the same service with wellness programming, the AutoZoners App also replaced traditional, separation of wellness and chronic condition programs. Health condition management and wellness offerings work best when used together to address unique user needs in a holistic way. GCL AutoZone employees and their family members with a range of health and wellbeing issues and provided them with consistent strategies and goal setting for lifestyle changes using the App and lifestyle coaching. GCL Health Partners were available for unlimited lifestyle coaching to AutoZoners and their family members; leveraging AutoZoner features such as the wellness assessment, health device integration to monitor health data and activities, and provide personalized health and wellness articles, digital coaching, wellness programing, and direct them to other vendor offerings to help them be successful. This approach helps AutoZoners and their family members stay engaged and ensures wellbeing is a top priority, ultimately helping to lower healthcare costs.
The success of any wellbeing program depends on frequent and consistent communication regarding wellness and preventive care. GCL used in-app, secure two-way messaging, bulletin board posts, text messaging, email, and push notifications to engage AutoZoners and their family members in the AutoZone health and wellbeing company culture. Prior to GCL's additional channels for communications via the SmartFHR™ app, many AutoZoners were unaware of the robust company resources and services available to support wellness and chronic health conditions for both them and their families.
Engagement year over year has improved which has enabled AutoZone to leverage the App even more. Program enrollment has increased and participation in preventive health activities has grown. Though it is difficult to measure ROI related to health and wellness initiatives, GCL partnered with Aon and an internal HR team from AutoZone to build an evaluation model to measure the success of the program and verify results.
Results:
The collaborative team of GCL, AON, and AutoZone's HR team outlined the following success measures:
Healthcare Cost based ROI – Measured return of about $1 to $3 per dollar spent In 2020; Among 26,842 users of one or more features of AutoZoners wellbeing programs; 10,366 were plan members. There were 6,238 plan members from 2019 in 2020 with 1.1-million-dollar cost reduction which can be extrapolated to others. There were additional cost savings among engaged members. Additionally, 16,476 non-plan members used the service saving healthcare costs, though AutoZone had no healthcare costs for them.
Metabolic Syndrome: Weight loss AutoZone has higher rates of obesity, diabetes and overall metabolic syndrome compared to national averages. 923 participant lost an average of 10.7 lbs. equal to over $1M in cost savings. There were also improvements in blood pressure and diabetes markers which led to more cost savings.
Productivity: Absenteeism & Presenteeism There were 104 wellbeing service users who had on average 158 days of disability vs 347 non-users who had on average 191 days of disability leave for a saving of $330K. Exploring sick leave data, we see lower sick leave usage among engaged part-timers. It is also reported that happiness and wellbeing improvements result in greater profitability.
Turnover: Recruiting and Retention Turnover among 26,121 participants who engaged with the App was 26% vs turnover among all AutoZoners which was 63%. This results in cost savings in hiring and training costs. Using AutoZone's internal data, this equates to $3.3-million in cost savings per 1,000 AutoZoners retained.
This analysis was clearly demonstrate that while industry uses $1 to $3 number as a return on investment in wellness program, actual numbers here in this program are signitifantly higher when one factors in other cost savings from absenteeism and retention.
An integrated and comprehensive approach to manage employee wellbeing is key to improve employee health and reduce not only company healthcare costs but improves productivity by having fewer sick days and saves money by retaining people.